Change Management - Sample2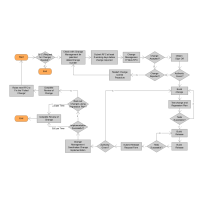 Change Management Process
Change Management Filters RFC
End
Eclipse Time
N
Y
Change Rejected?
Y
Tests Successful?
Build change
Obtain Sign Off
Raise new RFC to Fix the 'Failed Change'
Check with Change Management for potential dates/Change number
Implementation Successful?
N
RFC (Request for Change) Needed?
Change Accepted?
Test change and Regression Plan
Complete Review of Change
Submit Release Request Form
Authority Given?
Y
Back out Changes using Regression Plan?
Start
Build Release
N
N
Change ManagementCoordinates Change Implementation
Submit RFC at least 5 working days before change required
Restart Change Control Procedure